Practice English at America House Chisinau
Next week America House Chisinau prepared for you a lot of interesting events where you can practice English, learn new things and gain knowledge.
On July 19, at 4 PM, we invite all that are interested in making music to meet, Will Logsdon, aka LOG DOG DJ, to find out how he creates his music. Join the Meet an American event with Will Logsdon to learn what equipment and basic skills you'll need to develop, as well as where to promote your music.
See you at the America House Chisinau: Str. Mitropolitul Gavriil Bănulescu-Bodoni, 27. Registration form.
On July 20, at 5 PM, we invite high school students to join the movie screening of one of the most significant and famous stories - Alice in Wonderland.
Followed by the discussion session and quiz, this event is perfect for those who want to practice their English.
The event will be on-site, at our office situated on Mitropolit Bănulescu Bodoni 27 str., mun. Chișinău. Registration form.
Have you ever considered becoming a lawyer, a judge, or taking a legal career path?
America House Chisinau invites you on July 21, at 5 PM to a discussion with Vladimir Palamarciuc, the President of the European Young Bar Association.
Come to America House Chișinău to learn more about the law career paths and get inspired by the recently appointed president of the EYBA, Vladimir Palamarciuc, who will talk about modern European legal practices and his professional experience in the field. Registration Form.
America House Chisinau invites all foreign visitors to discover Chisinau.
Join our live session on July 22, at 4 PM to get acquainted with the capital of the Republic of Moldova, the city of Chisinau, a destination that attracts tourists because of its cultural blend. Our Facebook page: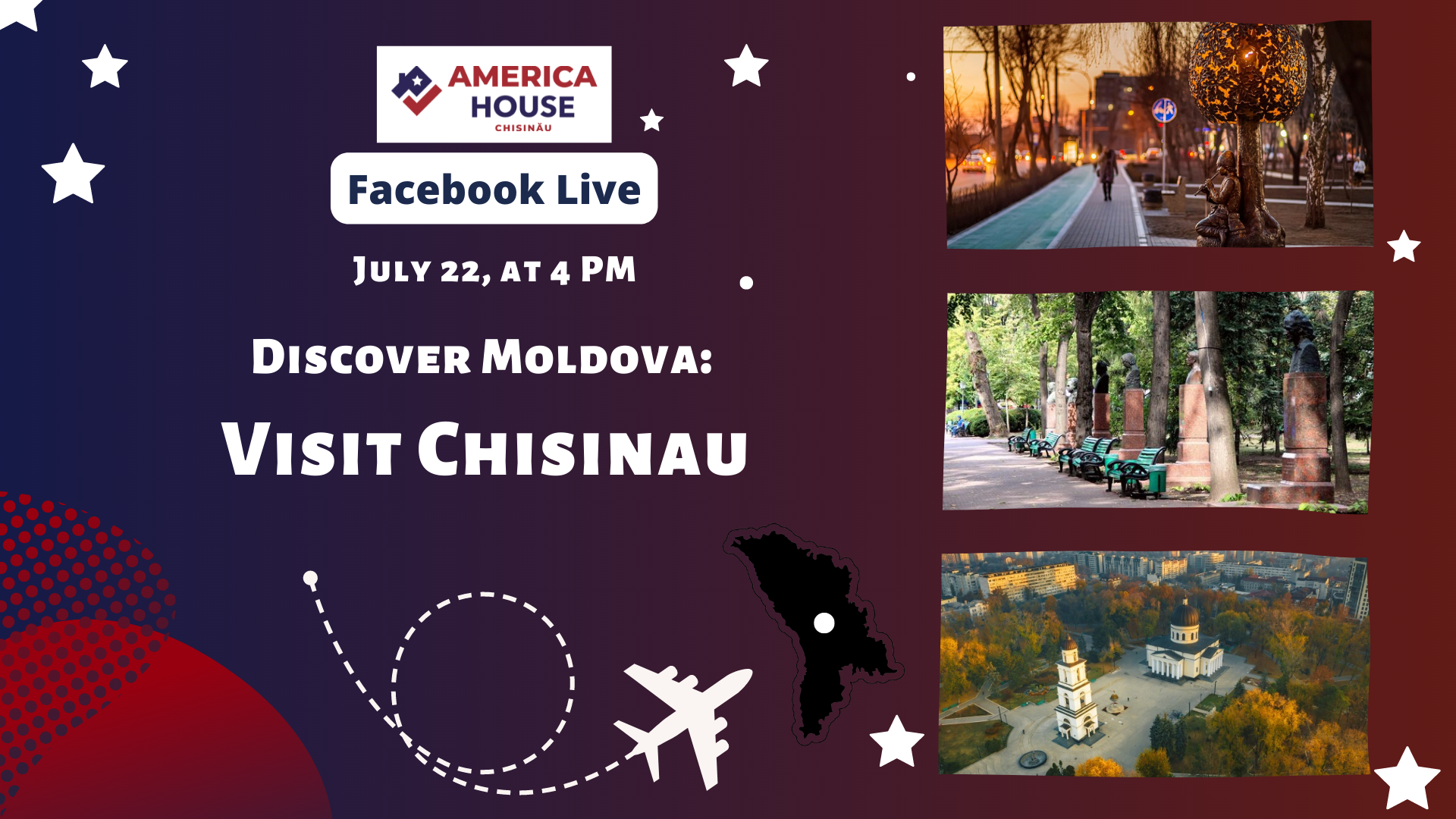 And the cherry on top of our week will be the Book Club Meeting.
On June 23, at 4.30 PM come to America House Chisinau to find out more about Aldous Huxley and his novel through reading and guided discussion.
In 1492, the New World was discovered by Christopher Columbus. This New World is collectively known as the Americas, a land of opportunity and hope for economic prosperity, for political and religious freedom. The novel anticipates huge scientific advancements in reproductive technology, sleep learning, psychological manipulation, and classical conditioning.
Please Register to become a book club member:
Use your time wisely, and join the events prepared by America House Chisinau!